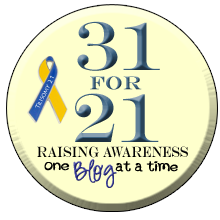 Grab This Button
I was not aware of this until today - it's a challenge to bloggers to bring awareness of Trisomy 21 to our world...
Why now? Because it's Down Syndrome Awareness month!
So here's my first blog entry for "31 for 21"...But I think I should get some credit for creating and blogging about the video montage I created about Esther's first year that I posted already this week, don't you???
And, lastly, I haven't had many comments lately...is anyone reading my blog anymore? I know I am not very faithful, and some of my friends have accused me of failing at blogging, but I am hoping that changes I am making now, will make it possibly for me to blog more, especially about personal/family things...
If you have been reading my blog, and would even be willing to follow me if I switch blog platforms where I would only blog only about me/my family, please post a comment to encourage me to continue!!!
So check back soon as I hope to blog more about Esther, Down Syndrome, and all things related!