Carese is still little, but she's grown a lot! This rose headband shows how much her head has grown! She now weighs 11 1/2 pounds, and that means she's gained almost 8 pounds!
We took her for her first camping trip this past weekend and she did great. She loves to be outdoors so she was totally enjoying every minute of it. She did great sleeping at night, and I had her sleeping in her car seat, so it felt a lot like her bed at home which has the bottom of the bed at an angle, like a wedge.
As you can see in this photo, she is enjoying some exercise time on an air mattress! As usual, we forgot a few things (like garbage bags), and ran into a few snags (like the trailer brake not being hooked up to the battery, and all but one air mattress going flat the first night). We got to camp a lot later than I had planned, but it was better that way as I had planned to drive the kids up there by myself, but some of the problems I ran into required Daryl to fix them, so the nap I took was a great use of the time while we waited for Daryl to get off work.
I was having such a great time camping (in spite of crutches), that I didn't take any photos, sorry about that. I did have some difficulty getting in and out of the trailer, but I worked it out and just didn't go in or out unless I really needed to! But they would have been a bit boring as we mostly just relaxed and hung out with Daryl's work co-horts (it was his work's camp out at Silver Lake).
One surprise we had was that Rachel broke out with chicken pox the day before we left for camping (the day we went to the beach again), but we weren't sure it was CP until the end of the weekend. Carese started showing signs of a mild cold the last night there, and she has been snuffly all week, with a little cough. She's been wanting mama more than usual, and a little fussy in the evenings, but other than that she's doing really well for her first cold. Reuben seems to have the same cold only his cough is really bad. Today he seems much better though, so that is a relief! Rachel too this sweet photo of Carese sleeping at the beach in the shade. The camera had been set to "point and shoot" but the lighting worked well enough that the flash didn't come on and it turned out to be a nice, natural light photo after all!
Another big even last week was Esther's first dentist appointment with a new pediatric dentist, Dr Apple. Dr Apple is working out of Dr Yeh's office, he's our orthodontist, when Dr Yeh is in his other offices. This means that all our dentists and the orthodontist appointments are all within three blocks of each other! Esther did much better at this dentist appointment. Esther doesn't not like to have her teeth brushed, and oral sensitivity can be a problem with children who have Trisomy 12. Overall Esther does not have oral sensitivity, so I think it's more of a toddler thing of not wanting anyone messing with her mouth. The dentist was very upbeat and encouraging to Esther, plus she didn't seem to be in a rush. She did find two watch spots, but no cavities - Yay! The fact that the dentist is a woman was reassuring as well, I believe. She did so well (she did cry, but she wasn't hysterical) that she got to pick out a sticker. She picked out a very appropriate sticker don't you think?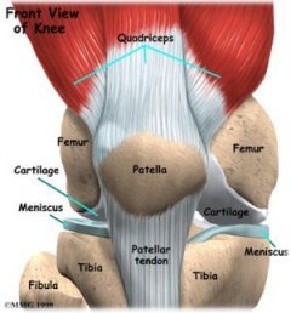 A little information about my knee - here's an excellent image of the knee, and if you look at the work cartilage on the left side, there's an arrow pointing to the Medial Condyle Cartilage. My defect is approximately 1 cm around, going through the cartilage to the bone. The defect is on the weight bearing surface, probably right where that arrow is pointing. Only it's my right knee, not the left as show in the image. Today I went in for another appointment, since it hasn't improved much he wants me to keep on crutches, icing it 3 - 4 time a day, for the next 5 weeks, hoping that it will find a new normal (cartilage does not heal). If needed, at my next appointment I am expecting to get a different injection, and I hope it will do the trick for me. This injection will be of
Hyaluronic Acid
, and it's usually used for osteoarthritis (which I had the early signs of on the edges of the cartilage) and can also be helpful with cartilage injuries. It basically coats the inside of the knee covering defects with a smooth, slippery gel like coating, covering a multitude of sins, so to speak.
Now for some more Photoshop fun! I learned how to dark the edges, or surround a focal point with a darker version of the image. This is great to bringing the object of the photo into sharp focus, drawing attention to what you want looked at! This can be done just around the edges of the image too, but I haven't done that yet.
I used that technique on the photo of the butterfly below, giving the impression that the light source was through an opening in the leaves above the butterfly, and then I also used the dark space to add scripture. I am going to frame this one for my kitchen as my kitchen is in blue, black and white! If you click on the image (or any image on my blog) you can see the full size version!